お知らせ
18.02.22Media
香港の雑誌「WINE LUXE」に掲載されました
WINE LUXE 2018年
The Miraculous Sake Mujaku Junmai Daiginjo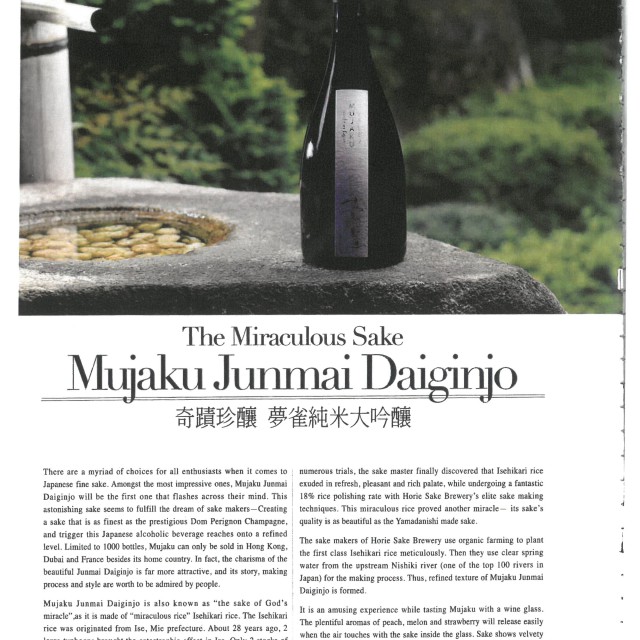 There are a myriad of choices for all enthusiasts when it comes to Japanese fine sake. Amongst the most impressive ones, Mujaku Junmai Daiginjo will be the first one that flashes across their mind. This astonishing sake seems to fulfill the dream of sake makers –Creating a sake that is as finest as the prestigious Dom Perignon Champagne, and trigger this Japanese alcoholic beverage reaches onto a refined level. Limited to 1000 bottles, Mujaku can only be sold in Hong Kong, Dubai and France besides its home country. In fact, the charisma of the beautiful Junmai Daiginjo is far more attractive, and its story, making process and style are worth to be admired by people.
Mujaku Junmai Daiginjo is also known as "the sake of God's miracle ", as it is made of "miraculous rice" Isehikari rice. The Isehikari rice was originated from Ise, Mie prefecture. About 28 years ago, 2large typhoon brought the catastrophic effect in Ise. Only 2 stocks of Isehikari rice survived and stayed strong at the rice fields nearby the Ise-jingu. This miraculous news evoked great attention for the rice industry.
Afterwards, Yamaguchi prefecture decides to plant Isehikari rice , the local renowned Horie Sake Brewery was bold to use this rice as the ingredient of sake. At the beginning, some workers was strongly disagree with this bold move, they believed the high amount of protein of this rice variety was easy to bring weird flavour to sake. With numerous trials, the sake master finally discovered that Isehikari rice exuded in refresh, pleasant and rich palate, while undergoing a fantastic 18% rice polishing rate with Horie Sake Brewery's elite sake making techniques. This miraculous rice proved another miracle- its sake's quality is as beautiful as the Yamadanishi made sake.
The sake makers of Horie Sake Brewery use organic farming to plant the first class Isehikari rice meticulously. Then they use clear spring water from the upstream Nishiki river (one of the top 100 rivers in Japan) for the making process. Thus, refined texture of Mujaku Junmai Daiginjo is formed.
It is an amusing experience while tasting Mujaku with a wine glass. The plentiful aromas of peach, melon and strawberry will release easily when the air touches with the sake inside the glass. Sake shows velvety palate, refresh yet opulent fruitiness and wonderful length. The refined Junmai Daiginjo can match wonderfully with elegant French and Italian cuisines, and its paring performance is as great as a top-notch white wine. Mujaku sake is filled in a 750ml Champagne bottle, instead of a regular 720ml sake bottle. The dreamy blue bottle colour can block the damage of sunlight. Mujaku performs a great ageing ability like wine, which allows its texture and style can be fully developed, and leads to a better flavour.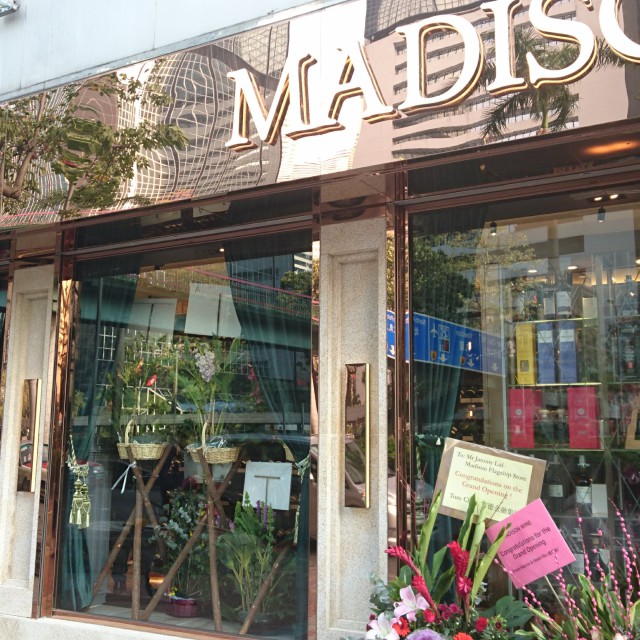 Madison Wine The Exclusive Distributor of Mujaku in Greater China
If you have any interested on this "Miraculous Sake"Mujaku Junmai Daiginjo, you can visit The Madison Wine flagship store, located at Gloucestor Road, Wan Chai.
Madison Wine is the exclusive distributor of Mujaku in Greater China. The finest wine enterprise is engaged to search the premium and rare and refined wine, whiskies, cognacs, Chinese baijiu and sake from worldwide, as well as the provision of retail sales, wholesale, storage, and a range of customer-oantric value-added services.